Today, you can count on propane for so much more than small heaters and backyard grills.
As the company that you can trust for your home service needs, you can rely on us to help you get informed about some important propane facts and figures. You can also trust us to take care of all your home propane needs:
Did you know that propane is actually liquefied petroleum gas (some call it LPG for short)?
Propane is used by over 12.5 million households in the US and nearly 97% of propane used in the US is produced in North America.
It is nontoxic, colorless, and virtually odorless. As with natural gas, an identifying odor is added so the gas can be readily detected.
Propane is cheaper than electric! According to the U.S. Department of Energy, heating a home in the U.S. with propane in recent years has cost far less than heating with electricity. In addition, over time, propane water heaters can cost one-third less to operate and recover water twice as quickly as electric water heaters.
Propane tanks vary in size. You may remember the small one under the BBQ but they can be as large as 1,000 gallons. Large tanks are for larger homes with swimming pools, hot tubs, etc.
Propane is often used to fuel generators and many of you may remember that from Superstorm Sandy in October 2012.
You can also use propane to completely heat and cool your home! Others also use it for cooking, washing and drying clothes. lighting, heating up water, heating pools and more!
Basically, virtually anything in your home that can run on electricity can run on propane.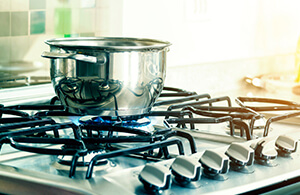 As one of the world's most efficient sources of energy, you can see that propane is so much more than just a backyard BBQ fuel and however you use it in your home now, or in the future, we've got all of your propane needs covered, too!
Patriot Propane has everything you need.
Call 1.866.305.7237 today!